I found the exhibition Flesh challenging, especially pieces which looked at decomposition or what's on the inside. The exhibition looked at how artists have portrayed bodies and necessarily, mortality. I found myself averting my eyes from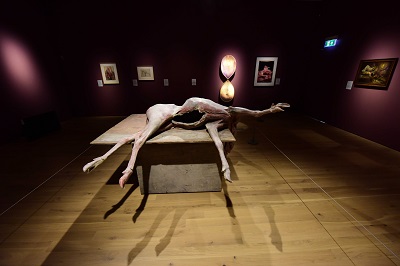 Berlinde De Bruyckere, Romeu (mu deer), 2011. Photo by Anthony Chappel-Ross.
And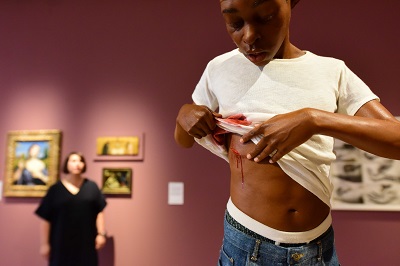 Ron Mueck, Youth, 2009, with Dr Jo Applin, Courtauld Institute of Art, Co-Curator of Flesh. Photo by Anthony Chappel-Ross.
And
Fig. 3. A Little Death, Sam Taylor Wood
There was a sense of unpleasant queasiness in the air – you didn't know what horror you would be presented with next.
I was drawn to a small still life by Chardin.
Fig. 4. Still Life. The Kitchen Table. It is beautiful. The colours, composition and light are just perfect.
Chardin is doing something very different in his picture to Sam Taylor Wood in "A Little Death". Her video challenges us to look on death and decomposition. In her own description of the video she describes it as "shockingly violent" and "frightful" which makes me feel better about not wanting to look. Is Chardin thinking about death? The eggs could refer to life and birth and the salmon to death – or is he just thinking about dinner?
I thought about why decay in particular is so difficult to look at. Does it provoke fear? It certainly provokes disgust which is a natural reaction to something which is related to disease and ill health. Should we overcome our disgust and look closely, or should we accept it and move on?
I have been thinking recently about artists whose work appeals to me and have come to the conclusion that they are often skilled at evoking a mood or atmosphere – not necessarily a happy mood – but something that pulls you into a different place. In this case, being pulled into a world of death and decomposition was never going to be a particularly happy experience. It did provoke a lot of thoughts about why we like art and what art we like and also thoughts about death and decay as a subject for art.
http://samtaylorjohnson.com/moving-image/art/a-little-death-2002